Mediterranean Cruise
From

$1999

$898 taxes
Explore 11 distinct European cities on this cruise along the shores of the Mediterranean. Before you go, be sure to behold the wonders of Eternal City, from the Coliseum, where gladiators battled, to Michelangelo's masterpiece on the ceiling of the Sistine Chapel. Witness the majestic limestone Notre-Dame de la Garde, sitting proudly atop Marseilles highest point – then admire the beautiful mosaics inside. And when in Barcelona, tour Antoni Gaudi's masterpiece, La Sagrada Familia, with its soaring spires, organic shapes, twisted iron sculptures, coloured tiles and gorgeous stained glass.
Travel Best Bets Package Includes
Round trip airfare to Rome and return from Barcelona
1 pre night hotel at Hilton Rome Airport (Covered tunnel linking the hotel to airport terminals (1, 2 and 3) – 5 minutes walking)
11 night cruise aboard Norwegian Spirit
Round trip transfers from airport to pier and pier to airport
November 9 – 22 2018
Inside
Outside
Obst.View
Balcony
Taxes & Fees
Vancouver
$1999
$2199
$2599
$898
Victoria, Kelowna, Comox add from $300 more
Please call to inquire for flights from other departure cities.
Sailing Itinerary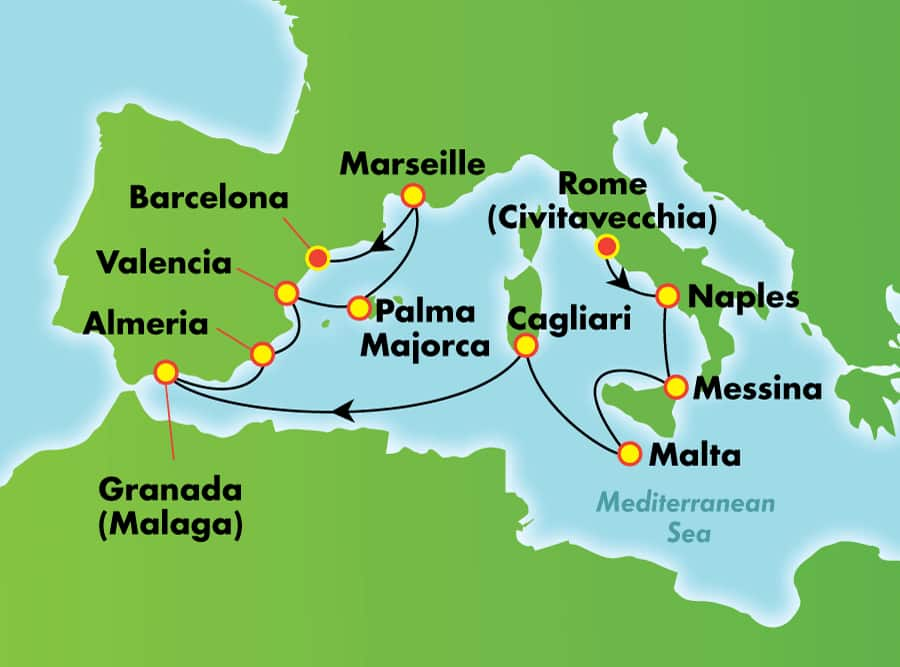 Day
Cruise Ports
Arrive
Depart
Day 1
Rome (Civitavecchia), Italy (EMBARK)
—
5:00 pm

Rome (Civitavecchia), Italy

Endless adventures await in Rome. With two and a half thousand years of history, art and culture, it is no wonder Rome is one of the most visited cities on the planet. Gaze at the masterpieces of the Vatican or walk into the past with visits to ancient relics, historic monuments and legendary museums. Or people-watch while sipping on an espresso in a quaint cafe.

Day 2
Naples, Italy
8:00 am
7:00 pm

Naples, Italy

Cruise to Naples, located on Italy's stunning Amalfi coast, a city rich in history. A tour around Naples' grand piazzas, cathedrals and castles in the old centre will take you back centuries. Pompeii is not too far either, a dashing city which boasts diverse cultural offerings and charming streets. Explore more of Naples on a European cruise!

Day 3
Messina (Sicily), Italy
8:00 am
6:00 pm

Messina (Sicily), Italy

The third largest city on the island of Sicily, Messina welcomes cruise ship visitors with its lovely harbour, extraordinary architecture (much of which miraculously survived a horrendous earthquake and tidal wave in 1908) and wonderful food. Stroll through Messina's Piazza Cairoli taking in magnificent fountains and cathedrals, or sip Marsala wine at a sidewalk cafe. Explore more of Messina on a European cruise!

Day 4
Valletta, Malta
8:00 am
3:00 pm

Valletta, Malta

Although somewhat scarred by World War II, Valletta prides itself on its magnificent Baroque palaces, piazzas, gardens and churches. The Magisterial Palace, built between 1571 and 1574, now houses the Maltese Parliament and offices of the President of Malta.

Day 5
Cagliari, Sardinia
10:00 am
6:00 pm

Cagliari, Sardinia

Cagliari, the capital of Sardinia, provides the perfect blend of modern life and medieval mystery on your Italian cruise. Check out the thousands of mysterious nuraghi (stone dwellings) found on the island. See Mercato di San Benedetto, and photograph the amazing museum citadel.

Day 6
At Sea
—
—
Day 7
Granada (Malaga), Spain
7:00 am
6:00 pm

Granada (Malaga), Spain

The strategic position to the Mediterranean Sea has always made Malaga an attractive zone for foreign invasions. From Malaga, a trip to Granada showcases an intriguing blend of Arab and European cultures. Be sure to visit The Alhambra, one of the finest examples of Moorish art in Spain.

Day 8
Almeria, Spain
8:00 am
5:00 pm

Almeria, Spain

A city with a rich, historic past, Almeria changed hands back and forth between Muslims and Christians since its founding in 955 AD by the Moors. Don't miss exploring La Alcazaba Fortress – in the mid10th century, it was one of the most powerful Moorish fortresses in Spain, second in size to the nearby Alhambra. And be sure to enjoy some tapas while in Old Town, with many delicious options featuring fresh seafood.

Day  9
Valencia, Spain
9:00 am
5:00 pm

Valencia, Spain

Old world charm meets modern architectural wonders in this eclectic city that is steeped in art and culture. Wander through bustling Gothic plazas and explore the awe-inspiring City of Arts and Sciences, a museum and cinema complex designed by world famous architect Santiago Calatrava. Whether you choose to shop, sightsee, or people-watch, Spain's third largest city offers visitors a truly authentic European experience.

Day  10
Palma, Majorca, Spain
8:00 am
2:00 pm

Palma, Majorca, Spain

On the one hand, this city, founded by the Romans some 2,100 years ago, is replete with (literally) wall-to-wall history and architectural splendour. You can journey back in time and wander the mazes of alleyways and cobblestone paths that surround the Gothic cathedral. On the other hand, Palma is bustling with life, showcasing the island's best restaurants, shops, nightlife and a vibrant art scene. Explore more of Palma on a European cruise!

Day 11
Provence (Marseille), France
8:00 am
4:00 pm

Provence (Marseille), France

Located on the Mediterranean coast, Marseille is the oldest city in France and was founded in 600 BC. Among the many terracotta-roofed buildings lies many intriguing sights including the Cathedral of Notre-Dame-de-la-Garde. Other places well worth visiting are the city of Avignon and the quaint villages of Le Baux & Aix en Provence. Explore more of Marseille on a European cruise!

Day 12
Barcelona, Spain (DISEMBARK)
5:00 am
—

Barcelona, Spain

The capital of Catalonia, and one of its provinces, Barcelona, is a place of palpable history, where you can lose yourself strolling down the medieval streets of the Barri Gotic. It's a city designed to delight the senses: visit other-worldly Modernista churches like Gaudi's La Sagrada Familia, or treat yourself at a street side cafe to Patatas Bravas or a Passion Fruit Mojito. Explore more of Barcelona on a European cruise!
---
Terms & Conditions
All rates are per person, based on double occupancy in Canadian dollars (unless otherwise stated) New bookings only. Space and price may be limited and subject to availability at the time of booking.  Errors or omissions may occur on the above information with no guarantee of being honoured. Terms and conditions apply. Tax is not included in the above base fare. Above tax amount includes $30 per adult Booking Management Fee.  Not included in the above rates: Xpresspost fee, recommended medical, cancellation or baggage insurance. Child rate is applicable when travelling with 2 paying adults sharing 1 hotel room, using the existing bedding. Price Match Policy: Travel Best Bets makes every effort to remain competitive by offering our 'Match or Beat Any Price' offer however due to certain restrictions  there will be some product we cannot match or beat. Please note the star ratings found on www.travelbestbets.com are determined by Travel Best Bets based on a number of factors and may not match the star rating found in the Tour Operator's brochure. Please view our star ratings by clicking here. Due to an increasing volume of disputed bookings, we will only accept payment for air only travel to India, the Philippines and the continent of Africa through the following means: book and pay cash in person or by direct deposit into our business account – once the transaction is verified and a copy of the receipt emailed or faxed to our office, we will confirm the booking. Please contact us for details on how to book using this method.Please note there maybe a tax increase when FREE connectors are added with Air Canada Vacations. Please contact

[email protected]

for photo credit information. BPCPA #3287