Panama Canal Cruise
From

$2249

$798 taxes
It's a once-in-a-lifetime experience you'll never forget. Set sail round-trip from Miami – a city known for its art deco architecture and cultural cuisine scene. Then get ready to marvel as you transit the Panama Canal, which is considered one of the seven wonders of the modern world. Along your unforgettable journey you'll visit Santo Tomás de Castilla in Guatemala where you can experience the Mayan ruins of Quirigua. Immerse yourself in natural beauty and culture like never before on Harvest Caye, a 75-acre oasis in Southern Belize that will be The Caribbean's premier island destination.
Travel Bets Bets Package Includes
Roundtrip airfare from Vancouver to Miami
10 night cruise aboard Norwegian Jade
Round trip transfers from airport to pier and pier to airport
March 11 – 23, 2018
Inside
Outside Obs. View
Outside
Balcony
Taxes & Fees
Vancouver
$2249
$2649
$3099
$4799
$798
Victoria, Kelowna from $300 more
Please call to inquire for flights from other departure cities.
Sailing Itinerary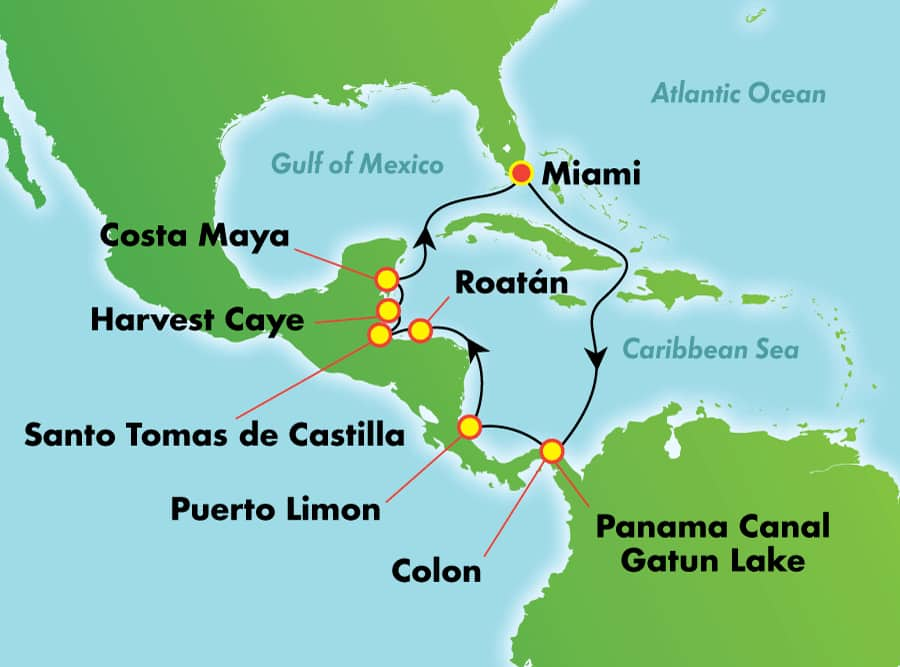 | | | | |
| --- | --- | --- | --- |
| Date | Port of Call | Arrive | Depart |
| March 12 | Miami, Florida | - | 4:00pm |
| March 13 | At Sea | - | - |
| March 14 | At Sea | - | - |
| March 15 | Panama Canal | 5:00am | 3:00pm |
| March 15 | Colon, Panama | 5:00pm | 8:00pm |
| March 16 | Puerto Limon, Costa Rica | 9:00am | 6:00pm |
| March 17 | At Sea | - | - |
| March 18 | Roatan, Bay Islands, Honduras | 11:00am | 7:00pm |
| March 19 | Santo Tomas de Castilla, Guatemala | 8:00am | 6:00pm |
| March 20 | Harvest Caye, Belize | 8:00am | 5:00pm |
| March 21 | Costa Maya, Mexico | 8:00am | 4:00pm |
| March 22 | At Sea | - | - |
| March 23 | Miami, Florida | 8:00am | - |
Miami, Florida
Miami's amazing medley of cultures and flashy urban settings makes it a scene to be seen. Visit the trendy Art Deco district of South Beach, Calle Ocho in Little Havana, the super-upscale neighborhoods of Coconut Grove and Coral Gables and the unique ecosystem of the Everglades
Colon, Panama
Sail into the Caribbean seaport of Colón and grab a good spot on deck so you can take in the view. What a picture it is. Behold the Atlantic Ocean entrance to the famous Panama Canal. Born from a desire to get to California (and its Gold Rush) as fast as possible, this industrious town was the last stop on the 19th century Panama Railroad. It's now home to Canal Zones, U.S. military bases and of course, beauty.
Puerto Limon, Costa Rica
Puerto Limón is known for its multi-cultural community and a festive annual carnaval celebration. In recent years the area has become even better known as must-see stop for eco-tourists. The region's unique geography and neo-tropical climate combined with abundant rainforests make for one of the most naturally diverse "biospheres" in the world. And you can take advantage of national parks and reserves in all directions from Limón. Pay close attention when you dock as many guests have reported seeing peaceful sloths lumbering in the trees right in port!
Roatan, Honduras
Beautiful and unspoiled, Roatan is a peaceful, eco-tourist's dream, just 30 miles off the coast of Honduras. Teeming with marine life and home to some of the best pillar coral in the Caribbean, the pristine Honduran Reef is a diver's paradise. And the beauty of Tabyana Beach is always a sight to see.
Santo Tomas de Castilla, Guatemala
Located on the eastern coast of Honduras, Santa Tomas de Castilla was originally settled in the 19th century by Belgian pioneers. Check out the abundant flora and fauna of Las Escobas Waterfalls, located within the protected nature reserve at the Cerro San Gil.
Harvest Caye, Belize
Belize is ideal for eco-tourism. With diverse ecology consisting of jungles, rainforests, swamps, coral reefs and so on, you will find solace and adventure in Harvest Caye's stunning landscape.
Costa Maya, Mexico
This coastal paradise in the Yucatan features stunning beaches with soft sand and blue skies. Travel to see ancient Mayan ruins in this region rich with archaeological sites.
---
Terms & Conditions
All rates are per person, based on double occupancy in Canadian dollars (unless otherwise stated) New bookings only. Space and price may be limited and subject to availability at the time of booking.  Errors or omissions may occur on the above information with no guarantee of being honoured. Terms and conditions apply. Tax is not included in the above base fare. Above tax amount includes $30 per adult Booking Management Fee.  Not included in the above rates: Xpresspost fee, recommended medical, cancellation or baggage insurance. Child rate is applicable when travelling with 2 paying adults sharing 1 hotel room, using the existing bedding. Price Match Policy: Travel Best Bets makes every effort to remain competitive by offering our 'Match or Beat Any Price' offer however due to certain restrictions  there will be some product we cannot match or beat. Please note the star ratings found on www.travelbestbets.com are determined by Travel Best Bets based on a number of factors and may not match the star rating found in the Tour Operator's brochure. Please view our star ratings by clicking here. Due to an increasing volume of disputed bookings, we will only accept payment for air only travel to India, the Philippines and the continent of Africa through the following means: book and pay cash in person or by direct deposit into our business account – once the transaction is verified and a copy of the receipt emailed or faxed to our office, we will confirm the booking. Please contact us for details on how to book using this method.Please note there maybe a tax increase when FREE connectors are added with Air Canada Vacations. Please contact

[email protected]

for photo credit information. BPCPA #3287