Mexican Riviera Cruise
From

$1199

$498 taxes
Whether you're ready to fiesta or siesta, you'll enjoy cruising the Mexican Riviera with Norwegian. A popular city for tourists, Manzanillo is also known as the "sailfish capital of the world" having hosted many national and international fishing competitions over the past 50 years. Sample the goods at Hacienda Dona Engracia, one of the finest tequila factories in Puerto Vallarta. And when you arrive in Cabo San Lucas, make sure to take a boat ride to the very southern end where you'll discover secluded beaches and dramatic rock formations at Land's End.
Travel Best Bets Package Includes
Round trip airfare from Vancouver to Los Angeles
9 night cruise aboard Norwegian Star
Round trip transfers from airport to pier and pier to airport

Travel Best Bets Exclusive: $25USD per cabin onboard credit!
Vancouver: March 2 – 11

Inside
Outside
Obst.View
Outside
Balcony
Taxes & Fees
March 2-11
$1199
$1649
$1699
$2349
$498
Victoria, Kelowna from $300 more
Itinerary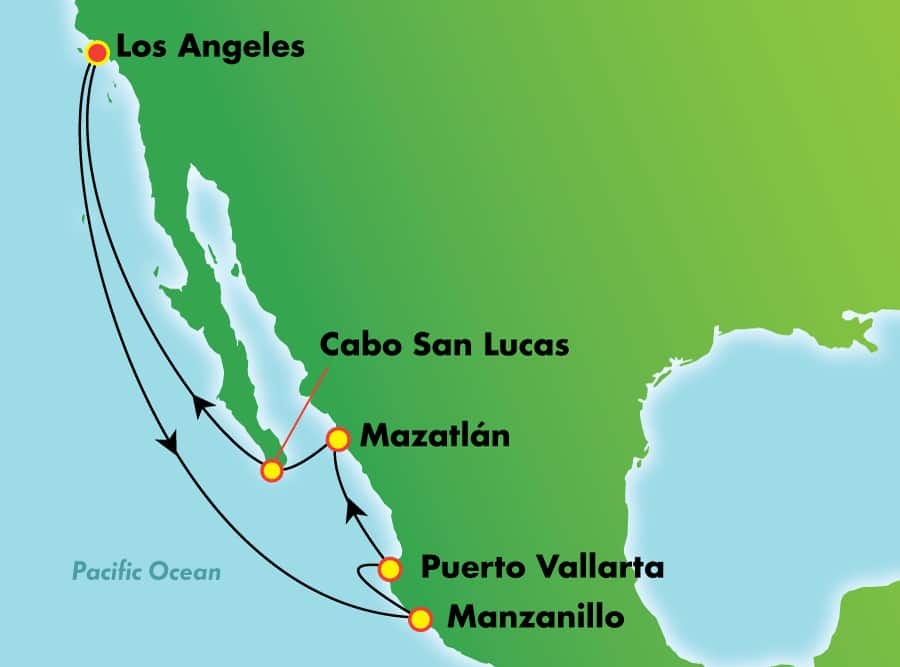 Day
Cruise Ports
Arrive
Depart
Friday
Los Angeles (EMBARK)
—
4:00 pm

Los Angeles, California

Check out the scene at Venice Beach. Spot a celebrity or two on Rodeo Drive. Take a walk down the Hollywood Walk of Fame. Explore the La Brea Tar Pits or Getty Centre. Or spend the day at one of L.A.'s world-famous theme parks.

Saturday
At Sea
—
—
Sunday
At Sea
—
—
Monday
Manzanillo, Mexico
10:00 am
7:00 pm

Manzanillo, Mexico

Picturesque fishing port-turned-tourist resort and self proclaimed sail fish capital of the world. Spectacular snowcapped volcanoes offer sights rarely seen. The waters and beautiful lagoons of Manzanillo are ideal for water sports.

Tuesday
Puerto Vallarta, Mexico
8:00 am
6:00 pm

Puerto Vallarta, Mexico

Smaller and more subdued than Acapulco, Puerto Vallarta has retained a good deal of its small village charm along with 26 miles of spectacular beaches along the Banderas Bay. Stroll the cobblestone streets to the Church of Our Lady of Guadalupe. Or peruse the many local wares for sale at the open-air markets.

Wednesday
Mazatlan, Mexico
8:00 am
5:00 pm

Mazatlan, Mexico

Combine a first-class beach resort with a city with an illustrious, colonial past and you've got Mazatlan. Sip on some Margaritas and enjoy the authentic Mexican cuisine. Take a drive along the foothills of the Sierra Madre Mountains. Then visit the many shops offering local crafts.

Thursday
Cabo San Lucas, Mexico
8:00 am
Overnight

Cabo San Lucas, Mexico

Cabo's signature landmark is El Arco ("The Arch"), a rock formation at the tip of "Land's End." The jewel of the Baja Peninsula is famous for its world-class sportfishing, as well as its high-end resorts and exclusive gated communities that line an area simply called "the Corridor."

Friday
Cabo San Lucas, Mexico
—
3:00 pm
Saturday
At Sea
—
—
Sunday
Los Angeles (DISEMBARK)
8:00 am
—

---
Terms & Conditions
All rates are per person, based on double occupancy in Canadian dollars (unless otherwise stated) New bookings only. Space and price may be limited and subject to availability at the time of booking.  Errors or omissions may occur on the above information with no guarantee of being honoured. Terms and conditions apply. Tax is not included in the above base fare. Above tax amount includes $30 per adult Booking Management Fee.  Not included in the above rates: Xpresspost fee, recommended medical, cancellation or baggage insurance. Child rate is applicable when travelling with 2 paying adults sharing 1 hotel room, using the existing bedding. Price Match Policy: Travel Best Bets makes every effort to remain competitive by offering our 'Match or Beat Any Price' offer however due to certain restrictions  there will be some product we cannot match or beat. Please note the star ratings found on www.travelbestbets.com are determined by Travel Best Bets based on a number of factors and may not match the star rating found in the Tour Operator's brochure. Please view our star ratings by clicking here. Due to an increasing volume of disputed bookings, we will only accept payment for air only travel to India, the Philippines and the continent of Africa through the following means: book and pay cash in person or by direct deposit into our business account – once the transaction is verified and a copy of the receipt emailed or faxed to our office, we will confirm the booking. Please contact us for details on how to book using this method.Please note there maybe a tax increase when FREE connectors are added with Air Canada Vacations. Please contact

[email protected]

for photo credit information. BPCPA #3287