Sensations of Lyon and Provence River Cruise
From

$4749

$380 taxes
Savour the pastoral charm and history of Provence with an 8-day Rhône river cruise from Lyon to Arles. You'll cut a course through lavender fields and wineries, visiting captivating destinations such as Tournon, Avignon, and Chalon-Sur-Saône.
The culinary theme begins immediately in Lyon, an ancient city recognised as the world capital of gastronomy. Take a tour of the Basilique Notre Dame de Fourviere church, before visiting a local Bouchon Lyonnais to sample the best in decadent French fare.
Sample regional wines in Tournon or take an EmeraldACTIVE guided hike through the surrounding vineyards. The landscape is laden with produce, and you'll sample the finest offerings of wine, cheese, and olives as you journey steadily south.
In Avignon, marvel at the imposing walls of the illustrious Palais des Papes, which served as the seat for successive popes throughout the 13th century. The cobbled byways of this enchanting city are yours to discover this afternoon, while a sumptuous Provencal dinner awaits on-board courtesy of a local chef – one of the EmeraldPLUS highlights in southern France.
Once in Arles, enjoy a relaxing evening on-board the Emerald Liberté after your guided walking tour of the city's Romanesque architecture, including a visit to the preserved Roman Amphitheatre.
Travel Best Bets Package Includes
Airfare from Vancouver to  Lyon and return from Nice
Deluxe 7 night all-inclusive river cruise aboard Emerald Liberte
Airport transfers to and from the ship
Prepaid gratuities
It's Amazing What's also Included:
Boutique contemporary hotel feel, with spectacular on board heated pool, cinema, spa and lounge
Spacious, comfortable accommodations with panoramic suites and staterooms
Gourmet all-included on board meals and highlight dinner events, al-fresco on The Terrace or in the well-appointed Reflections Restaurant
Enjoy in depth cultural experiences with EmeraldPlus and EmeraldActive, like a guided hike through a  Black Forest village
A refined selection of wine, beer and soft drinks to accompany lunch and dinner
Tea and coffee available at all times
Bottled water restocked daily in your cabin
Built-in adventure, with an included on shore excursion at every port
Visits to many UNESCO World Heritage Sites
Emerald Active guided biking and hiking tours
Excellent service from an English speaking crew
Knowledgeable, personable local destination guides
Complimentary bicycles on board
Complimentary on board Wi-Fi
Travel Best Bets Exclusive:  Book by August 31 for airfare from $495 and a free drink package.
 Vancouver
Outside Stateroom
Balcony Suite
Taxes and fees
June 7-15, 2019

$4749
 $5749
$380
Victoria, Kelowna or Comox add $400
 Pre and post cruise hotel nights available to extend your stay – ask for pricing.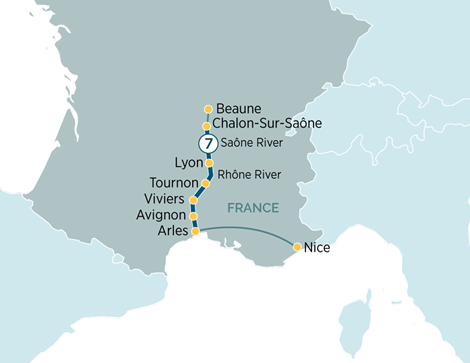 Day 1

Sat, 08 Jun

Arrival Lyon (D)

Welcome to Lyon. You will be met at the airport and transferred to the ship where you will be welcomed by your Captain and crew. Tonight, enjoy a welcome reception and dinner on board.
Day 2

Sun, 09 Jun

Chalon-Sur-Saône – Beaune (B,L,D)

Chalon–Sur–Saône is best known as the birthplace of photography and the center of Burgundy's wine region. Travel by road to the quaint village of Beaune, where we visit the Hospices de Beaune, one of the finest examples of French fifteenth–century architecture. Marvel at the multi–colored roofs of this former hospital, now a museum, which has become one of the symbols of Burgundy.
Day 3

Mon, 10 Jun

Lyon (B,L,D)

Lyon is France's third largest city, a former Roman capital positioned at the conference of the Rhone and Saone rivers, which is steeped in history. Today be part of the guided tour of Lyon, which starts with a drive to the Basilique Notre Dame de Fourvière, Lyon's hilltop church, with stunning views over the town. Then, pass by the recently re–discovered Roman amphitheatre and walk through the cobbled streets of the gastronomic old town including the secret laneways. Alternatively, join a guided bike tour of Lyon.
EmeraldACTIVE: Guided Bike TourDiscoverMORE: Tour to Perouges (extra expense)
Day 4

Tue, 11 Jun

Tournon (B,L,D)

Join your local guide for a walking tour of Tournon

,

which is dominated by the 16th century castle and roman ruins, and is nestled in the valley near the steep slopes of le Massif Central, France's 3rd largest mountain range. The area has a long tradition in wine making, including the renowned wine growing centre of Tain l'Hermitage across the river.
EmeraldACTIVE: Guided active walk through vineyards
EmeraldPLUS: Regional wine lecture on board
EmeraldACTIVE: Guided bike tour to Glun
Day 5

Wed, 12 Jun

Viviers (B,L,D)

Arrive in Viviers, a town which still has a lot of flare. Viviers is also the home of one of France's oldest cathedrals, join an included city tour exploring all the architectural heritage of this quaint town.
EmeraldPLUS: Cheese and olive tasting on boardDiscoverMORE: Tour to Grignan (extra expense)
Day 6

Thu, 13 Jun

Avignon (B,L,D)

Avignon has a rich history from Celtic beginnings to being the residence of the Popes and later central to the French Revolution. Although a fortified town, it is the Papal Palace which stands more secure on a hill in the centre of town; its walls are 17–18 feet thick. Your guided walk with a local guide takes you through this historic centre with its cobbled laneways and shops, overlooking the famous 'Pont d'Avignon'. The rest of the day is at leisure.
EmeraldACTIVE: Guided active hike in Avignon
EmeraldACTIVE: Yoga Lesson on Board
EmeraldPLUS: Provençale dinner hosted by local Chef Fabien Morreale
DiscoverMORE: Excursion to Pont du Gard (extra expense)
Day 7

Fri, 14 Jun

Arles (B,L,D)

Sail into Arles where you will join your local guide for a walking tour showcasing the highlights of the city in particular the 2000-year-old Roman Amphitheatre still in use today, which was originally built to hold 20,000 spectators in the style of the Colosseum in Rome. The rest of the day is at leisure to relax on board and explore Arles further.DiscoverMORE: Excursion to Les Baux de Provence (extra expense)
Day 8

Sat, 15 Jun

Arles Disembarkation – Nice (B)

After breakfast disembark your river cruise ship in Arles, transfer to Nice airport for your onward or homebound flight.
---
Terms & Conditions
All rates are per person, based on double occupancy in Canadian dollars (unless otherwise stated) New bookings only. Space and price may be limited and subject to availability at the time of booking.  Errors or omissions may occur on the above information with no guarantee of being honoured. Terms and conditions apply. Tax is not included in the above base fare. Above tax amount includes $30 per adult Booking Management Fee.  Not included in the above rates: Xpresspost fee, recommended medical, cancellation or baggage insurance. Child rate is applicable when travelling with 2 paying adults sharing 1 hotel room, using the existing bedding. Price Match Policy: Travel Best Bets makes every effort to remain competitive by offering our 'Match or Beat Any Price' offer however due to certain restrictions  there will be some product we cannot match or beat. Please note the star ratings found on www.travelbestbets.com are determined by Travel Best Bets based on a number of factors and may not match the star rating found in the Tour Operator's brochure. Please view our star ratings by clicking here. Due to an increasing volume of disputed bookings, we will only accept payment for air only travel to India, the Philippines and the continent of Africa through the following means: book and pay cash in person or by direct deposit into our business account – once the transaction is verified and a copy of the receipt emailed or faxed to our office, we will confirm the booking. Please contact us for details on how to book using this method.Please note there maybe a tax increase when FREE connectors are added with Air Canada Vacations. Please contact

[email protected]

for photo credit information. BPCPA #3287