Mekong Discoverer River Cruise
From

$5849

$340 taxes
Inspired by temples and traditions, this 12-day river cruise between Ho Chi Minh City and Siem Reap introduces the treasures of the Mekong — from Angkor Wat to the floating markets of Cai Be.
Be carried to an enigmatic land of colour, mystery and intrigue with our Mekong Discoverer River Cruise. The evocative customs and traditions of Southeast Asia reveal themselves along the great Mekong, which serves as a life-giving passageway for the people who rely on its emerald waters for transport, trade and food.
Travelling between historic Ho Chi Minh City in Vietnam to the exotic lands of Cambodia, you'll experience irresistible moments of cultural enrichment that unveil the time-honoured heritage and traditions of the region.
Uncover the mysterious Cu Chi Tunnels of Ho Chi Minh City, travel through the colourful floating markets of Cai Be, visit the poignant Killing Fields of Phnom Penh, and marvel at the famous temples of Angkor Wat.
Travel Best Bets Package Includes
Airfare from Vancouver to Ho Chi Minh and return from Siem Reap
2 nights hotel in Ho Chi Minh City
Deluxe 7 night all-inclusive river cruise aboard Mekong Navigator
2 nights hotel in Siem Reap
Airport transfers to and from the ship
Prepaid gratuities
It's Amazing What's also Included:
Boutique contemporary hotel feel, with spectacular on board heated pool, cinema, spa and lounge
Spacious, comfortable accommodations with panoramic suites and staterooms
Gourmet all-included on board meals and highlight dinner events, al-fresco on The Terrace or in the well-appointed Reflections Restaurant
Enjoy in depth cultural experiences with EmeraldPlus and EmeraldActive, like a guided hike through a  Black Forest village
A refined selection of wine, beer and soft drinks to accompany lunch and dinner
Tea and coffee available at all times
Bottled water restocked daily in your cabin
Built-in adventure, with an included on shore excursion at every port
Visits to many UNESCO World Heritage Sites
Emerald Active guided biking and hiking tours
Excellent service from an English speaking crew
Knowledgeable, personable local destination guides
Complimentary bicycles on board
Complimentary on board Wi-Fi
Travel Best Bets Exclusive:  Book by July 31 fly for free.
 Vancouver
Superior Suite
Vista Suite
Taxes and fees
April 18-30, 2019

$5849
 $6699
$340
Victoria, Kelowna or Comox add $400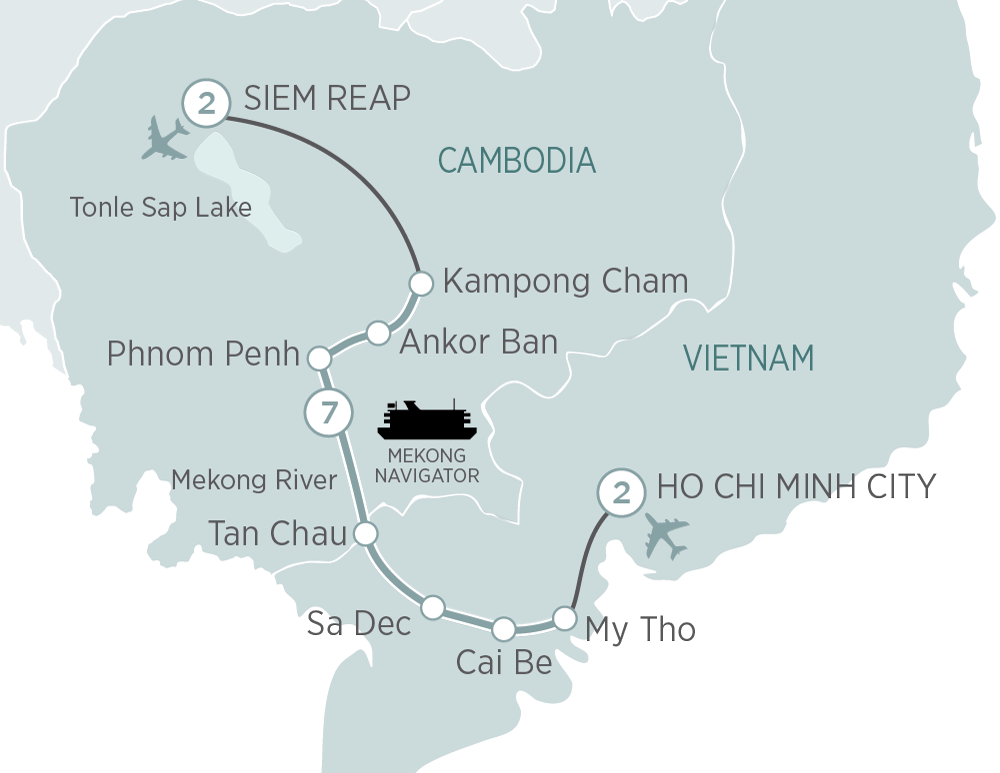 Day 1

Fri, 19 Apr

Ho Chi Minh City, Vietnam (D)

Xin Chao and welcome to Ho Chi Minh City! More commonly known as Saigon, this is a city with a turbulent and colourful past, although today it is the country's commercial centre with over eight million inhabitants and four million motorbikes. You will be met by an Emerald Waterways representative and transferred to your hotel. This evening join your Tour Director and fellow travellers for a welcome dinner.
Two Night Stay: Ho Chi Minh City
Day 2

Sat, 20 Apr

Cu Chi Tunnels (B)

EmeraldPLUS: Travel to the infamous Cu Chi Tunnels. An ingenious network of over 200km of underground tunnels, they were built by the Viet Cong guerrillas as a means of protection, communication and deception. Join a Vietnamese Veteran and learn of the wars, strategies, atrocities and the resourcefulness of the Vietnamese which eventually led to the defeat of their enemies. Hear fascinating stories from first-hand experience to allow a real insight into one of the most famous wars of our time. Return to Saigon and spend the afternoon exploring the city. Discover More: Evening street food walking tour, or Saigon old and new tour (additional cost).
Day 3

Sun, 21 Apr

Ho Chi Minh City – My Tho – Embarkation (B,D)

Be guided on a city tour of Saigon, visit Reunification Palace where Saigon fell, then stroll to the major sights such as Notre Dame Cathedral, the Old Saigon Post Office, bustling Dong Khoi Street, Opera House and City Hall. Finish at the War Remnants Museum which provides a graphic insight into both the wars in Vietnam. Transfer to the gateway of the Mekong Delta, My Tho; a busy port town dependent on the river for its livelihood. From here we will begin our journey upstream aboard the luxurious RV Mekong Navigator. Once on board you will meet your Cruise Director and crew, followed by a welcome reception. This evening enjoy a delicious Vietnamese "Mekong Delta" Theme Dinner while sailing to Cai Be.
Seven Night Stay: RV Mekong Navigator
Day 4

Mon, 22 Apr

Cai Be – Sa Dec (B,L,D)

Following breakfast we board traditional sampans and sail through Cai Be's floating market, a fascinating and iconic scene of the Mekong Delta. Watch as the locals trade and barter a variety of wares and exchange goods across the river. Sail past the city's attractive French gothic cathedral, then tour the historic Anh Kiet House with its beautiful surrounding gardens. Visit a traditional rice factory where workers produce rice paper, rice wine, popped rice, and many varieties of traditional candies. Afterwards we return to the ship for a sumptuous lunch and enjoy a scenic cruise upstream. We reboard our sampans to navigate the narrow canals of the Mekong, where we can observe daily routines of the villagers en route to the historic town of Sa Dec. Along the way, we stop at a local brick factory to view the complete process of brick-making by local men and women utilising clay from the Mekong. Upon arrival to Sa Dec, we visit the home of Mr. Huynh Thuy Le, who inspired Marguerite Duras' novel, L'Amant (The Lover), and take a fascinating walk through the town's market experiencing the local sights and sounds.
Day 5

Tue, 23 Apr

Tan Chau – Vietnam/Cambodia border crossing (B,L,D)

Tan Chau is an interesting border town with a variety of ethnicities and is famous for its silk. Board a sampan and sail to a colourful temple of the Cao Dai religion. This is one of the unique amalgam religions founded in Vietnam and its unique cast of saints include Jesus Christ, Sun Yat Sen and Victor Hugo. We then board a xe loi (traditional Vietnamese tuk-tuk) for a 15-minute ride through the town to a family-owned mat weaving workshop. This is a fascinating look into an integral Mekong Delta industry where the products are made by hand or with the help of a manually operated loom. Reboard our sampans and sail to a floating fish farm to learn about various types of fish in this region and the importance of this industry to Vietnam's economy. Disembark at Evergreen Island for a walk through the local village which provides an interesting view into authentic rural Mekong Delta life. Return to the ship for lunch and cruise toward the border. Sous Sdei and welcome to Cambodia! Following clearing formalities and crossing the border, we witness a fascinating change in the architecture along the riverfront as we sail into Cambodia. This evening join the culinary team and watch them demonstrate the art of Vietnamese and Cambodian cooking. Please note we are unable to dock or proceed into the city until the customs office is open tomorrow morning.
Day 6

Wed, 24 Apr

Phnom Penh (B,L,D)

Cambodia's capital Phnom Penh was once known as the "Pearl of Asia", but it was almost entirely evacuated by the Khmer Rouge in 1975. Today it is an inspiring and buzzing centre of hope and opportunity with plenty to see and do. EmeraldPLUS: After breakfast, we meet our cyclo drivers for an exciting morning city tour of Phnom Penh. Cyclos, a Phnom Penh institution are three wheeled bicycles built for transporting passengers. They are a traditional mode of transport throughout the Mekong and provide a unique view of the capital. Prepare for a leisurely journey as we are taken along the riverfront to the magnificent Royal Palace complex which is a highlight of any visit to Phnom Penh. Enjoy a leisurely walk through the grounds, viewing Throne Hall and Moonlight Pavilion before visiting the famous Silver Pagoda, home of Cambodia's Emerald Buddha and Maitreya Buddha, encrusted with more than 9,000 diamonds. The cyclos then transport us to the National Museum, ending the morning with a comprehensive tour of the many Angkorian and pre-Angkorian artifacts discovered in the Angkor Archaeological Area in Siem Reap. The afternoon is at leisure to explore Phnom Penh. Go shopping at the local markets, or simply relax at one of the many restaurants and pubs such as the famous Foreign Correspondents Club. EmeraldPLUS: Before dinner, visit the Sun Deck to enjoy a cultural performance by the Cambodian Children's Group. The performance includes Apsara, Cambodia's national dance as well as local traditional folk dances. Discover More: Backstreets, temples and communities tour, or street food tour (additional cost).
Day 7

Thu, 25 Apr

Phnom Penh (B,L,D)

This morning we learn about the darkest days of Cambodian history. A short drive will take us to the Killing Fields at Choeung Ek which is a disconcerting reminder of the recent atrocities committed by the Khmer Rouge regime. We have the opportunity to walk through the fields, visit the small museum and Memorial Stupa, and learn about this sad history. We continue to what is possibly the most powerful museum experience in Indochina, Tuol Sleng Genocide Museum (also known as S-21). This is a former school that was converted to the main prison and torture headquarters of the Khmer Rouge and is a chilling reminder of the brutal history. Our afternoon is again at leisure.
Day 8

Fri, 26 Apr

Angkor Ban (B,L,D)

Today we have a great opportunity to get to know traditional life in the Mekong with a visit to the charming town of Angkor Ban. Here, you will have a glimpse into the lives of the local people starting with a visit to a family's home to see how the locals live, along with an opportunity to meet the family and discuss their lifestyle. Continue through the village to the local school where you will join the children in their classroom and experience what a typical school day is like. Then walk back through the village to the ship, including a brief stop at the local monastery complex.
Day 9

Sat, 27 Apr

Wat Hanchey – Kampong Cham (B,L,D)

Wat Hanchey is an ancient hilltop pagoda which is the home to Buddhist Monks and offers some of the best views of the Mekong River. EmeraldPLUS: Receive a traditional Buddhist Water Blessing from the monastery's resident monks. After enjoying a walk around the monastery and the amazing views of the Mekong River valley, we descend the enormous stairway, surrounded by the incredible view of the Mekong below. Following lunch, we drive through the city of Kampong Cham to visit the hills of Phnom Pros (man hill) and Phnom Srei (woman hill), the incredible Stupa, the 10-metre long reclining Buddha, and the 13-metre tall preaching Buddha. Today's final visit is to the 12th century, Angkorian-period complex of Wat Nokor Bachey, which features several original statues of Buddha and stone inscriptions. We then return to the ship and gather for a farewell reception and Royal Cambodian Theme Dinner as we prepare for our journey to Siem Reap, home of the archaeological wonders of Angkor Wat.
Day 10

Sun, 28 Apr

Kampong Cham – Siem Reap (B)

Disembark and bid farewell to the RV Mekong Navigator and her crew. Transfer from Kampong Cham to Siem Reap, the gateway to the ancient and magnificent Temples of Angkor. From the 9th to the 13th centuries Siem Reap was the capital of the powerful Khmer Empire which left the legacy of the Angkor Temples. EmeraldPLUS: This evening witness the incredible Phare Cambodian Circus. Phare is an NGO founded by Cambodian refugees to assist disadvantaged young people by teaching them performing arts. The show is a spectacle of acrobatics, theatre and music themed around contemporary Cambodian life and society. Discover More: Uncover the outer lying temples, either Banteay Srei or Beng Mealea, or take a Cambodian cooking class or explore the Roluos temple group (additional cost).
Two Night Stay: Siem Reap
Day 11

Mon, 29 Apr

Angkor Temples (B,D)

Start the day at the magnificent and famous Angkor Wat. The temple is known for its elaborate decorations and intricate carvings throughout. It is a masterpiece to behold and will leave you breathless. Continue to the unique Ta Prohm temple which is overgrown by jungle trees. In the afternoon, visit Angkor Thom through the ancient South Gate which is lined with carvings. Continue to the impressive Bayon Temple, containing 54 towers each with four faces. Finish at the Terrace of the Elephants and the Terrace of the Leper King known for their intricate bas-reliefs. This evening enjoy a sumptuous farewell banquet.
Day 12

Tue, 30 Apr

Depart Siem Reap (B)

Transfer to Siem Reap airport for your onward flight. We hope you enjoyed your tour of South East Asia and hope to see you again soon!Please note: The Mekong River is subject to extreme variations in water levels throughout the year. Every effort is made to provide the routing and inclusions stated however depending on water levels prevalent at the time of sailing, this itinerary may be amended or modified.
VISA INFORMATION
As visa regulations are subject to change at short notice, Emerald Waterways recommend that you contact the relevant Consulate or Embassy for the latest information on visa requirements and costs. Please allow sufficient time for visa processing. Please note if you leave and re-enter a country that requires a visa you may need to obtain a double entry for that country. For all other nationalities – please contact the relevant Consulates, or your travel agent, for the latest information on visa requirements and costs.
VIETNAM VISA
Canadian Passport holders travelling to Vietnam require a visa for entry. All travelers to Vietnam for tourism, business, study, visiting relatives, volunteering or for any reason need to obtain 
a valid visa
 issued by the Embassy of Vietnam in Canada before their travel to Vietnam The standard visa is a single entry visa. This means that you can only enter the country once. If you plan to leave Vietnam and then return on the same trip, you will need to apply for a multiple entry visa before you leave Canada. This cannot be amended after you arrive in Vietnam.
Please provide Vietnam Visa Number, Visa Issue Date, Date of Entry to Vietnam, and Expiry Date in the Trip Personalizer at least 45 days prior to departure.
Entry Requirements:
Make sure your passport has at least six months' validity from your planned date of return to Canada.
CAMBODIA VISA
Please note that Canadian Passport holders require a visa for entry into Cambodia. Depending on direction of travel the visa may be obtained before departing Canada or while on-board the river cruise ship. Tourist visas can be obtained at a Cambodian embassy abroad, upon arrival at the airports in Phnom Penh and Siem Reap, or at certain land borders. Tourist visas allow entry to Cambodia for 30 days only, counting from the date of entry. When issued outside Cambodia, visas have an expiry date, which refers to the date by which the visa must be used, not the length of time allowed in the country. Visas must be renewed for stays in excess of 30 days and may only be extended once. Travellers must pay a fee of US$30 for tourist visas (cash only) and provide two passport-sized photos. Single-entry tourist visas may also be requested online through an e-Visa service provided by Cambodia's Ministry of Foreign Affairs and International Cooperation. For additional information, consult the Ministry of Tourism. If entering Cambodia from Vietnam, a visa can be obtained at the international crossing points at Bavet in Svay Rieng Province and Khmorm Samnor on the Mekong River.
Entry Requirements:
Your passport must have at least six months' validity remaining when you arrive in Cambodia. Local immigration authorities may deny entry and deport people who do not meet this requirement, even if they intend staying only for a short period. Please carry 2 passport size photos with you for your visa
Guests travelling upstream – Ho Chi Minh City to Siem Reap
Guests who are travelling from Ho Chi Minh to Siem Reap CANNOT use an e-visa for entry into Cambodia. These guests will be able to obtain their Cambodian visa at the river border crossing while on-board the ship. Guests must ensure they have two (2) passport photos and USD cash to obtain their visa whilst on-board.
---
Terms & Conditions
All rates are per person, based on double occupancy in Canadian dollars (unless otherwise stated) New bookings only. Space and price may be limited and subject to availability at the time of booking.  Errors or omissions may occur on the above information with no guarantee of being honoured. Terms and conditions apply. Tax is not included in the above base fare. Above tax amount includes $30 per adult Booking Management Fee.  Not included in the above rates: Xpresspost fee, recommended medical, cancellation or baggage insurance. Child rate is applicable when travelling with 2 paying adults sharing 1 hotel room, using the existing bedding. Price Match Policy: Travel Best Bets makes every effort to remain competitive by offering our 'Match or Beat Any Price' offer however due to certain restrictions  there will be some product we cannot match or beat. Please note the star ratings found on www.travelbestbets.com are determined by Travel Best Bets based on a number of factors and may not match the star rating found in the Tour Operator's brochure. Please view our star ratings by clicking here. Due to an increasing volume of disputed bookings, we will only accept payment for air only travel to India, the Philippines and the continent of Africa through the following means: book and pay cash in person or by direct deposit into our business account – once the transaction is verified and a copy of the receipt emailed or faxed to our office, we will confirm the booking. Please contact us for details on how to book using this method.Please note there maybe a tax increase when FREE connectors are added with Air Canada Vacations. Please contact

[email protected]

for photo credit information. BPCPA #3287