Enchantment of Eastern Europe River Cruise
From

$4349

$798 taxes
The charms of Eastern Europe are beautifully navigated by the Danube River, and this 9-day river cruise between Bucharest and Budapest introduces you to some of the highlights of the region — including Vidin, Kostolac, and Belgrade.
The great Danube River is integral to the rural regions of Eastern Europe, bringing life and trade to the local people for thousands of years. From Bucharest to Belgrade, Rousse to Kalocsa; the Danube flows through a diverse array of destinations before it reaches Western Europe, each revealing more about the evocative culture and traditions of the region. As part of our 9-day Enchantment of Eastern Europe river cruise, you'll travel west from Bucharest through Romania, the heart of Eastern Europe, whose friendly people and exquisite scenery guarantee a warm welcome. Then, it's onwards into Croatia and Serbia, via such destinations as Kostola, Belgrade, and Osijek before you reach beautiful Budapest.
Travel Best Bets Package Includes
Return airfare from Vancouver to  Bucharest and return from Budapest
Deluxe 8 night all-inclusive river cruise aboard Emerald Dawn
Airport transfers to and from the ship
Prepaid gratuities
It's Amazing What's also Included:
Boutique contemporary hotel feel, with spectacular on board heated pool, cinema, spa and lounge
Spacious, comfortable accommodations with panoramic suites and staterooms
Gourmet all-included on board meals and highlight dinner events, al-fresco on The Terrace or in the well-appointed Reflections Restaurant
Enjoy in depth cultural experiences with our EmeraldPLUS excursions; cheese and olive tasting or Provencal dinner on board hosted by a local chef
Emerald's Concierge Service* – served right to your suite, enjoy continental breakfast, predinner canapés and after dinner treats
A refined selection of wine, beer and soft drinks to accompany lunch and dinner
Tea and coffee available at all times
Bottled water restocked daily in your cabin
Built-in adventure, with an included on shore excursion at every port
Visits to many UNESCO World Heritage Sites
Emerald Active guided biking and hiking tours
Excellent service from an English speaking crew
Knowledgeable, personable local destination guides
Complimentary bicycles on board
Complimentary on board Wi-Fi
Travel Best Bets Exclusive:  Book  by June 30 and save $1500 per person.
| | | |
| --- | --- | --- |
| October 4-13, 2018 | Balcony Suite | Taxes and fees |
| Vancouver | $4349 | $798 |
| Victoria, Kelowna, Comox | $4649 | $798 |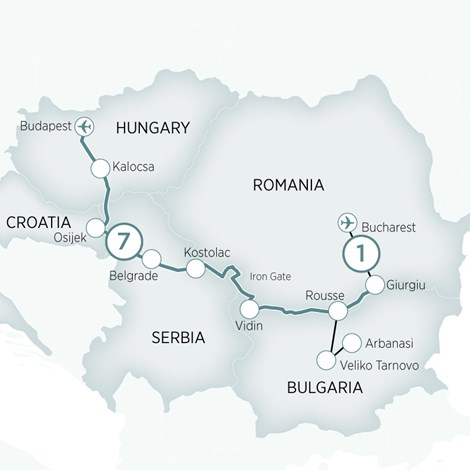 Day 1

Fri, 05 Oct

Arrival Bucharest (D)

Welcome to Romania's capital, Bucharest, it is a lively city full of history and life. This evening join your fellow travellers for a welcome cocktail reception at the hotel. Included is a one night stay in Bucharest.
Day 2

Sat, 06 Oct

Bucharest – Giurgiu Embarkation (B,D)

Today in the morning, you will drive through the streets and boulevards of Bucharest in a guided city tour, which includes the enormous Palace of the Parliament; Europe's largest building constructed by former dictator Nicolae Ceausescu. After the tour, you will transfer from Bucharest to Giurgiu, where a warm welcome awaits you from your Captain and crew as you board your Emerald Waterways luxury river cruise ship.
Day 3

Sun, 07 Oct

Rousse – Arbanasi & Veliko Tarnovo (B,L,D)

Today your ship will cruise to Rousse, once at the port take a coach ride to the town of Veliko Tarnovo and Arbanasi. Veliko Tarnovo, was the former capital of the Bulgarian empire known once as the 'city of the Tsars'. Visit the historic town of Arbanasi perched on a high plateau overlooking the Yantra River and lined with traditional houses. The town is known for its 17th and 18th century churches and many examples of Bulgarian National Revival architecture. Tonight join your Captain for a welcome reception and dinner.
EmeraldPLUS: Choir Concert in Arbanasi
EmeraldACTIVE: Hike to Ivanovo Church
Day 4

Mon, 08 Oct

Vidin (B,L,D)

This morning, arrive in Vidin, the most eastern town in Bulgaria. Enjoy an included tour visiting Port Cetate, a former Danube grain port in Romania, which has been turned into a cultural center, preserving the architecture and traditions of the area. Alternatively, embark on an EmeraldACTIVE hike to Belogradchik rock fortress.
EmeraldACTIVE: Hike to Belogradchik
Day 5

Tue, 09 Oct

Kostolac (B,L,D)

Today you will embark on an incredible journey to the first and biggest architectural archaeological excavation in Eastern Europe, the Viminacium Archaeological Excavation Site and Museum. This site was one of the most important Roman cities and military camps in the period from 1st to 4th centuries. Its exceptional strategic importance was reflected both in the defence of the northern border of the Roman Empire and in turn of communications and commercial transactions.
Day 6

Wed, 10 Oct

Belgrade (B,L,D)

Serbia's vibrant capital awaits today, your city tour includes a visit to Tito's Memorial, the impressive Fortress Kalemegdan and St Sava Church which is the world's largest orthodox cathedral.
Discover More: National Opera Theatre Tour (extra expense)
EmeraldACTIVE: Guided Biking Tour
EmeraldPLUS: Serbian Folklore Evening Show
Day 7

Thu, 11 Oct

Osijek (B,L,D)

Cruise into the border region of Croatia today, an area that was heavily damaged during the Croatian War of Independence at the end of the communist era. Visit the town of Osijek and join in a guided tour. Compare stories back at the ship and enjoy an evening of sailing further upstream towards Hungary. Tonight join your Captain for a farewell reception and dinner.
EmeraldPLUS: Home Hosted Lunch with a Croatian Family
EmeraldPLUS: Meet students from the local village
Day 8

Fri, 12 Oct

Kalocsa – Budapest (B,L,D)

Arrive in Kalocsa, one of the oldest towns in Hungary, famous for the production of paprika. This morning visit a local Puszta Horse Farm and enjoy a performance showcasing the exceptional riding skills of Magyar horseman.
EmeraldPLUS: Visit to Puszta Horse Farm
Day 9

Sat, 13 Oct

Budapest Disembarkation (B)

After breakfast, your tour concludes and you will be transferred to the airport for your ongoing flight.
---
Terms & Conditions
All rates are per person, based on double occupancy in Canadian dollars (unless otherwise stated) New bookings only. Space and price may be limited and subject to availability at the time of booking.  Errors or omissions may occur on the above information with no guarantee of being honoured. Terms and conditions apply. Tax is not included in the above base fare. Above tax amount includes $30 per adult Booking Management Fee.  Not included in the above rates: Xpresspost fee, recommended medical, cancellation or baggage insurance. Child rate is applicable when travelling with 2 paying adults sharing 1 hotel room, using the existing bedding. Price Match Policy: Travel Best Bets makes every effort to remain competitive by offering our 'Match or Beat Any Price' offer however due to certain restrictions  there will be some product we cannot match or beat. Please note the star ratings found on www.travelbestbets.com are determined by Travel Best Bets based on a number of factors and may not match the star rating found in the Tour Operator's brochure. Please view our star ratings by clicking here. Due to an increasing volume of disputed bookings, we will only accept payment for air only travel to India, the Philippines and the continent of Africa through the following means: book and pay cash in person or by direct deposit into our business account – once the transaction is verified and a copy of the receipt emailed or faxed to our office, we will confirm the booking. Please contact us for details on how to book using this method.Please note there maybe a tax increase when FREE connectors are added with Air Canada Vacations. Please contact

[email protected]

for photo credit information. BPCPA #3287