Discovering Myanmar
From

$6099

$598 taxes
Immerse yourself in the magic of Myanmar. This fascinating country is home to endless natural beauty and impressive architecture. Its deep history is astounding, and its culture is captivating. Discover the most revered Buddhist temple in Myanmar, the Shwedagon Pagoda. Take a private motorboat on the tranquil Inle Lake and be surrounded by one of Myanmar's most spectacular panoramas. Observe leg-rowing fisherman and discover their floating gardens. Visit local markets, cottage industries and villages to come face to face with a more traditional way of life. Ascend to a height of over 3,000 feet above sea level to the visit charming Pyin Oo Lwin, a town that blends the East and West. Board a train for a scenic journey across the Gokteik Viaduct and travel over a nearly 100 feet deep gorge. Discover Pindaya Cave, home to more than 8,000 Buddha statues. In Bagan, pause to take in the unforgettable sunset over the plains from the upper terrace of one of the temples. Discover Mt. Popa, an imposing sight of sheer rock topped with golden stupas from the monastery that sits on its peak.
Travel Best Bets Package Includes:
Roundtrip airfare from Canada to Yangong
12 nights guided vacation
26 meals as listed in itinerary
Domestic Flights as mentioned in itinerary
Sightseeing as listed in itinerary
Transportation via air-conditioned motorcoach
Services of professional Tour Manager
All baggage handling (1 bag per person)
Airport transfers
Highlights:
Discover Pindaya Cave, home to more than 8,000 Buddha statues.
Travel aboard the Yangon Railway, a circular train that the locals use every day.
Visit the Indein village and come to know the Pa-O people.
Explore tranquil Inle Lake by private motorboat to discover its spectacular setting.
Enjoy time in the traditional village of Amarapura.
Take a carriage ride through the National Kandawgyi Gardens.
November 2-14
Vancouver
$6099 + $598 tax
Single Supplement
+ $1500
Victoria, Kelowna from $400 more
Not included: Tips for guides, Visa $50 USD (details listed in important notes below itinerary)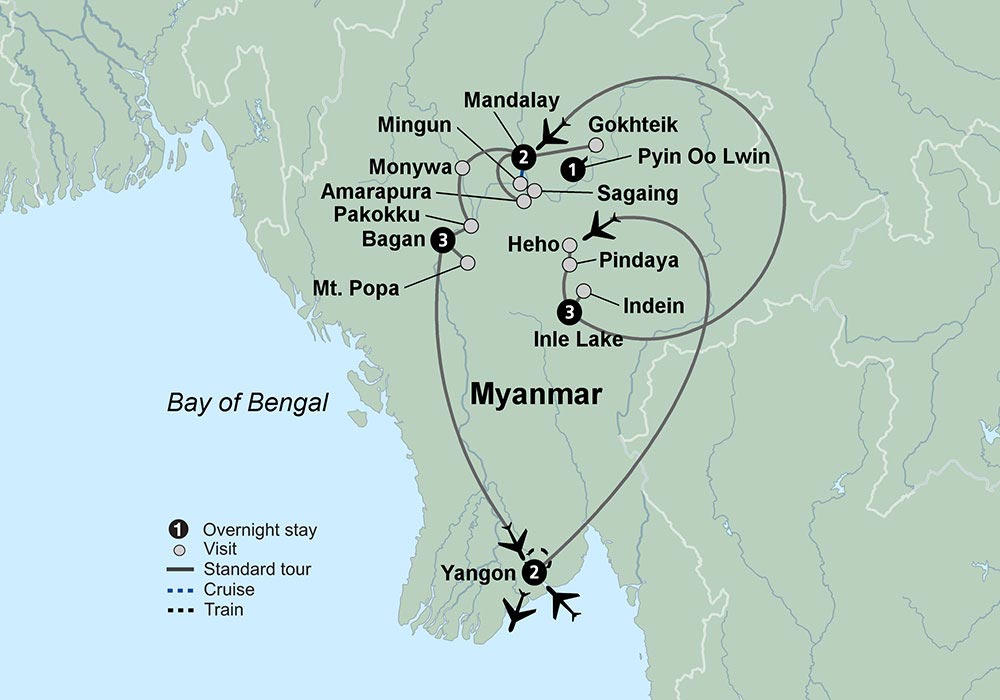 Itinerary
Day 1: Depart Canada
Day 2: Arrive Yangong
Arrive in Yangong and make your way to your hotel
Hotel: Chatrium Hotel
Day 3: Yangong (B/L/D)
Start the day with a stroll through the city centre and the colonial district. Stop at the impressive Mayor's Hall and beautiful Mahabandoola Park. Next, set out on the Yangon Railway, a circular train that the locals use every day. This slow travelling train gets you up-close to the vibrant lifestyle of the people who call this place home. Disembark at the Scott Market and enjoy time to explore. This afternoon, continue to Shwedagon Pagoda, the most revered Buddhist temple in Myanmar. Although its origins are unclear, the local legend states that the structure was built 2,500 years ago, then renovated several times, finally taking shape in the 15th century. Tonight, gather for a welcome dinner with your fellow travellers.
Hotel: Chatrium Hotel
Day 4: Yangon – Heho – Pindaya – Inle Lake (B/L/D)
A short morning flight brings you to Heho. From there we head to Pindaya Cave, home to more than 8,000 Buddha statues. Carved in wood, stone, marble and bronze, these works of art are a wonder to behold. Afterwards, visit Shan paper production cottages where handmade papers are produced from mulberry bark pulp that is sun-dried. You'll also see how the oiled paper umbrellas that are used by monks and nuns are made. Travel to Nyaung Shwe, stopping en route at the Shwe Yan Pyay, an old wooden monastery.
Hotel: Inle Resort
Day 5: Inle Lake (B/L)
Board your private motorboat to head out on tranquil Inle Lake and be surrounded by one of Myanmar's most spectacular panoramas. Inle Lake is the only place in the world where you can find people who propel their boats by "leg rowing." Pass villages built on stilts and inhabited by the local Intha people. Intha farmers grow flowers and vegetables in floating beds of water hyacinth and grasses, staked to the shallow lake bed with bamboo poles. Explore the local crafts of Inle Lake at the weaving village of Inpawkhone and visit floating villages and gardens. Later, visit the famous Phaung Daw Oo Pagoda.
Hotel: Inle Resort
Day 6: Inle Lake – Indein – Inle Lake (B/L/D)
Spend time at one of the lake's morning markets. This rotating market moves around the lake's villages in a five day rotation, frequented by lthe Pa-O, Danu and Intha locals who come to sell and trade their wares. Continue by boat to the Indein Pagoda Complex, an archaeological site with hundreds of Shan-style pagoda standing on a slope of the hill. Some of the pagodas date back to the 17th and 18th centuries. Then we take a short drive/journey to Indein village to mingle with the Pa-O people and the villagers of Indein.
Day 7: Inle Lake – Mandalay – Pyin Oo Lwin (B/L/D)
Fly to Mandalay and ascend to the former British hill station of Pyin Oo Lwin (also known as Maymyo), filled with colonial-era buildings. There is an interesting mix of residents here including various ethnic tribes as well as many Nepalese and Hindu who migrated here during the British occupation. Explore the peaceful National Kandawgyi Botanical Gardens, reminiscent of Britain's great gardens. This horticultural wonder features 432 acres of botanical species from around the world. Feel like you have stepped back in time during a horse-drawn carriage ride through the park.
Hotel: Aureum Resort The Governors House
Day 8: Pyin Oo Lwin – Gokhteik – Mandalay (B/L)
Board a train for a journey across the Gokhteik Viaduct, built more than a century ago by the Pennsylvania Steel Company, and considered a masterpiece of steel trestle construction. Take in spectacular scenery as you travel over a nearly 100-foot-deep gorge in the Shan mountains. Then, return to Mandalay to relax or explore on your own. Later, visit Kuthodaw Pagoda. Known as "the world's largest book," it is surrounded by 729 marble slabs inscribed with Buddhist scriptures. Proceed to the Golden Palace Monastery, once part of the palace complex where King Mindon lived.
Hotel: Mandalay Hill Resort
Day 9: Mandalay – Mingun – Sagaing – Amarapura – Mandalay (B/L/D)
Board your boat and travel on the Ayeyarwady (Irrawaddy) River bustling with longtail boats and bamboo rafts. Upon arrival on the western bank, visit the unfinished Mingun Pagoda. Built between 1790 and 1797, the pagoda was split by an earthquake in 1838. Pause along the way to see the famous Mingun Bell, the world's largest intact bronze bell. Continue on to the stunning, pure-white Hsinbyume (Myatheintan) Pagoda and the Soon Oo Ponya Shin Pagoda where you will find some of the best panoramic views of the valleys and river. Visit Sagaing, a town at the foot of the Sagaing Hills, dotted with hundreds of pagodas, monasteries and nunneries quartres. Make a stop in the traditional village of Amarapura, a former capital of Myanmar. Behold the picturesque U Bein Bridge, a 200-year-old bridge constructed of 984 teak posts that were once part of the Inwa Palace…this is the world's longest teak span. When time permits, we'll venture to the glittering glass-studded temple atop Mandalay Hill to take in the evening glow and watch the sunset.
Hotel: Mandalay Hill Resort
Day 10: Mandalay – Monywa – Pakokku – Bagan (B/L/D)
Our first stop this morning is Monywa where you will visit Thanbodday Pagoda complex, spectacular with its multicoloured spires and more than 580,000 Buddha images, all in seated or standing poses. Next, stop at Bodhi Tataung complex where massive golden Buddhas, reclining or standing, gaze serenely over the Chindwin Valley. Later we head to Pakokku and visit Ma-U village to learn about the incense stick industry. Cross the Ayeyarwady River by boat on our way to Bagan, the capital of Myanmar during the 11th – 13th centuries. Set on the banks of the Ayeyarwady River, Bagan is home to the largest area of Buddhist temples, pagodas, stupas and ruins in the world.
Hotel: Tharabar Gate Hotel
Day 11: Bagan (B)
Bagan's rulers constructed thousands of huge stupas and temples, many of which are still standing today on the banks of the Ayeyarwady (Irrawaddy) River. Gain insight into the city's rich history during a sightseeing tour featuring the colourful Nyaung Oo local market and stops at pagodas and temples along the way. Then, discover the amazing Ananda Temple, an architectural masterpiece and one of Bagan's most beautiful temples. Finish the day with a visit to one of the larger temples and pause to take in the unforgettable sunset, a truly magical experience.
Hotel: Tharabar Gate Hotel
Day 12: Bagan – Mount Popa – Bagan (B/D)
Today, drive through the plains to Mount Popa, an imposing sight of sheer rock topped with golden stupas from the monastery that sits on its peak. Along the way, a stop will be made at a toddy palm grove to see a skilful climber collecting sap from the top of a swaying tree. Here, learn about the palm sugar making cottage and taste this traditional sweet treat. Next, visit a local community to experience Myanmar village life. You'll also have the opportunity to see and perhaps make the 25-minute climb to the top of Popa Taung Kalut, an imposing summit that looks like a tower shaped out of a volcanic eruption some 250,000 years ago. Next, visit Popa Mountain Park to see Myanmar's traditional medicine plant garden. Tonight, say farewell to this magical region during a farewell dinner.
Hotel: Tharabar Gate Hotel
Day 13: Bagan – Yangon – Canada (B)
After breakfast, make your way to the airport for your flight home
Important Notes:
Credit cards are starting to be accepted in Myanmar; however, the bank processing fees will be added to your total charges (approximately 4%). ATM machines are available in large cities only. It is recommended you travel with cash for your additional expenses.
For your comfort, we recommend bringing walking shoes. If you require a walker or wheelchair, or have difficulty walking, you may not be able to access some of these areas and may want to consider an alternate program with us. Our travel counsellors can provide additional information or assistance to help you determine the perfect trip for you.
Maximum elevation: 4,300 feet.
When visiting sacred temples and stupas you must remove your shoes and socks.
Travel with just 24 passengers on this Explorations tour where a smaller group setting means a more personal travel experience.
Smaller buses, which may not be lavatory equipped, may be used on this program. In this case, frequent stops are made during travel periods.
Please be advised many airlines do not provide advance seat assignments until check-in at the airport. Advance seating will be subject to the airline's terms and conditions.
A single-entry Myanmar visa is required at your own expense and must be obtained prior to departure. The cost is $50 USD. E-visa applications are to be submitted at http://www.myanmarevisa.gov.mm and is payable by Mastercard or Visa in USD only. Processing time is approximately 1 week and must be used within 3 months of issue date. The approval letter must be printed as it is required to board your international flight to Myanmar and submitted to immigration upon arrival. Rates are approximate and can be changed at any time based on governing authority. Please contact your consulate for further details.
To truly experience the program and destination, you need to be able to participate in physical activities such as longer walking tours, walking over uneven terrain, climbing stairs and periods of standing. Some of the touring days may be longer, with select included activities occurring later in the evening.
---
Terms & Conditions
All rates are per person, based on double occupancy in Canadian dollars (unless otherwise stated) New bookings only. Space and price may be limited and subject to availability at the time of booking.  Errors or omissions may occur on the above information with no guarantee of being honoured. Terms and conditions apply. Tax is not included in the above base fare. Above tax amount includes $30 per adult Booking Management Fee.  Not included in the above rates: Xpresspost fee, recommended medical, cancellation or baggage insurance. Child rate is applicable when travelling with 2 paying adults sharing 1 hotel room, using the existing bedding. Price Match Policy: Travel Best Bets makes every effort to remain competitive by offering our 'Match or Beat Any Price' offer however due to certain restrictions  there will be some product we cannot match or beat. Please note the star ratings found on www.travelbestbets.com are determined by Travel Best Bets based on a number of factors and may not match the star rating found in the Tour Operator's brochure. Please view our star ratings by clicking here. Due to an increasing volume of disputed bookings, we will only accept payment for air only travel to India, the Philippines and the continent of Africa through the following means: book and pay cash in person or by direct deposit into our business account – once the transaction is verified and a copy of the receipt emailed or faxed to our office, we will confirm the booking. Please contact us for details on how to book using this method.Please note there maybe a tax increase when FREE connectors are added with Air Canada Vacations. Please contact

[email protected]

for photo credit information. BPCPA #3287