Highlights of South America
From

$5649

$631 taxes
Featuring Buenos Aires, Iguazu Falls & Rio de Janeiro
It's Time to Head 'South'
From Argentina's capital Buenos Aires to the Natural Wonder of Iguazu Falls, and Brazil's marvellous Rio de Janeiro, delve into the vivacious sights and sounds of South America. Spend three nights in fantastic Buenos Aires, the "Paris of South America." Discover the best Tango show in Buenos Aires and stroll the famed 9th of July Boulevard as you explore life in this vibrant city. Spend a day in the Argentinian countryside featuring a traditional asadolunch and gaucho horse show at an estancia. Behold the power of the Iguazu Falls from both Argentinian and Brazilian vantage points and explore Iguazu National Park. Learn how to craft the famous caipriniha cocktail. Eat and dance with the locals at a dinner and music show in Rio de Janeiro. Ascend Corcovado by train to Christ the Redeemer, one of the new Seven Wonders of the World. You choose from a Carnival Experience or a visit with local family in a favela. And finally, indulge in a Brazilian-style barbeque at one of Rio's top churrascaria restaurants.
Highlights: Buenos Aires, San Antonio de Areco, Iguazu Falls, Rio de Janeiro
Cultural Inclusions: Dine on a traditional Argentinian barbecue (asado) at a countryside estancia. Learn how to craft caipirinhas – a Brazilian cocktail with sugar cane liquor and lime. Dine in a typical Brazilian churrascaria.
Must-see Inclusions: Visit Corcovado and the mighty Christ the Redeemer statue overlooking Rio de Janeiro. Behold the Argentine and Brazilian sides of Iguazu Falls. Venture to the top of Sugarloaf Mountain.
It's Your Choice: In Buenos Aires, experience the lively capital with a local guide either by bike or by bus.In San Antonio de Areco, go horseback riding through the countryside or take a scenic horse-drawn carriage ride. In Rio de Janeiro, get a behind-the-scenes look at Rio's famous Carnival festival, or meet the locals with a visit to a favela.
Travel Best Bets Package Includes:
Airfare from Vancouver to Buenos Aires and return from Rio de Janeiro
3 nights hotel in Buenos Aires at the Brick Hotel MGalley
2 nights hotel in Mabu Thermas Grand Resort, Foz do Iguazu
3 night hotel in Sheraton Grand Rio Hotel & Resort
Meals: 8 breakfasts, 1 lunch, 4 dinners
Internal flights
Sightseeing as listed in itinerary
Airport transfers including door to door service
All baggage handling (1 bag per person)
Services of professional Tour Manager
 Travel Best Bets Exclusive:  Save $400 per person.  Book by July 1.
September 9, 2018
Vancouver
$5649 + $631 tax
Single Supplement (on request)
 add $1150
Victoria, Kelowna from $400 more
This tour includes moderate physical activity. The itinerary blends some longer days with shorter days and more leisure time. Walking tours, as well as walking slightly longer distances, up stairs or on uneven walking surfaces should be expected.
A visa for Brazil is required for this tour at your expense. For your convenience Collette recommends using CIBT visa service to ensure accuracy and timeliness of visa processing. The approximate visa cost is $200 CAD (includes CIBT fees as well as consular fees) plus shipping, subject to change. Please contact CIBT or visit their website at www.cibtvisas.ca or check with your consulate for more information.

With Collette, the World is Within Your Reach
True adventures go beyond incredible destinations or inclusive packages. Collette delivers a sense of possibility across all seven continents.
Since 1918, we have been sharing our love of travel. Today our worldwide travel collection features comprehensive land tours, river cruises, rail journeys, small group tours, family trips, garden holidays and more. With Collette, wake each morning on tour with a new experience in front of you, and when your head hits the pillow, you will know it has been an amazing day. Best of all – we seamlessly handle the details. All you have to do is enjoy the adventure.
Itinerary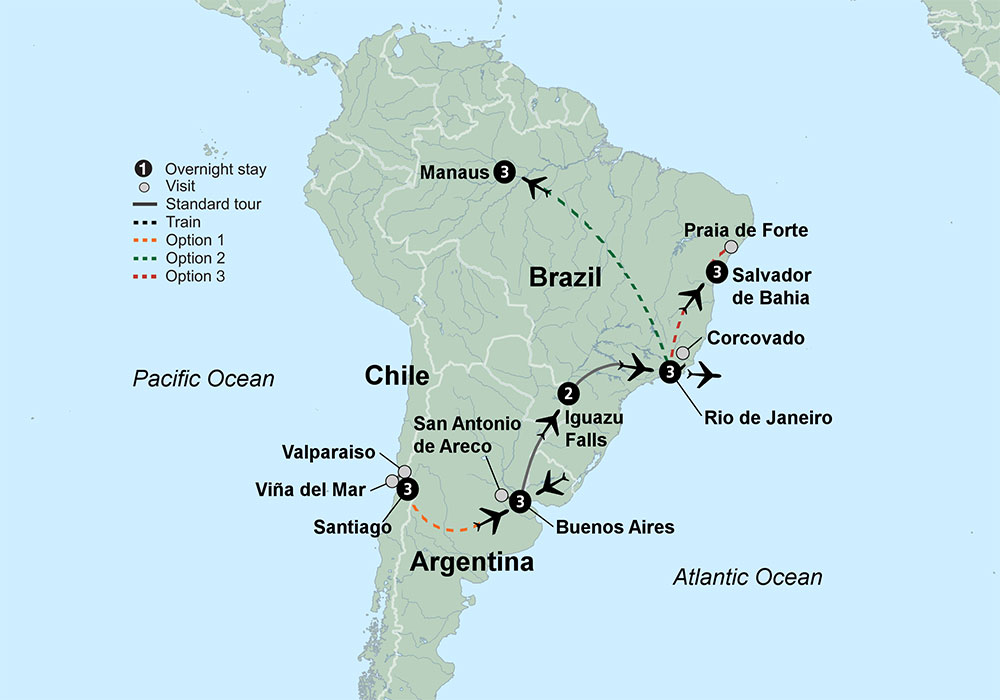 Buenos Aires, Argentina – Tour Begins
Welcome to Buenos Aires. Stretching along the banks of the Rio de la Plata, the "Paris of South America" is a mosaic of European-styled architecture and South American spirit. Meet your fellow travellers and enjoy a cocktail reception at your beautiful hotel located in the heart of the chic Recoleta neighbourhood. Tonight, head to the Esquina Carlos Gardel Tango House, named after Argentina's most famous tango maestro, and savour Argentine cuisine and wine before witnessing a stunning tango performance.
Meals: Dinner
Accommodation: Brick Hotel Buenos Aires
Day3
Buenos Aires
Start your day with a panoramic tour of lively Buenos Aires. Visit the Palermo district and Recoleta Cemetrey, where Evita Peron rests. Drive along the famous Avenida 9 de Julio; view the Teatro Colon opera house; the Metropolitan Cathedral, the former church of Pope Francis I; and the Presidential Palace – "La Casa Rosada" – at Plaza de Mayo. Explore San Telmo, the oldest neighbourhood of the city and the birthplace of tango. Then, it's your choice! Continue on your city tour by bus or embark on a bicycle tour with a local guide. Either way you will visit La Boca and the Puerto Madero neighbourhoods. The remainder of the day is yours to create your own adventure. Maybe you'll stroll through San Martin Park or Calle de Florida, a shopper's paradise; or take the optional Tigre Delta trip where you'll pass by an array of historic mansions before boarding a cruise through the canals.
Meals: Breakfast
Accommodation: Brick Hotel Buenos Aires
Buenos Aires – San Antonio de Areco – Buenos Aires
This morning we cross the Argentine Pampas, the nation's version of the "wild west." Embark on a guided tour of the charming country village of San Antonio de Areco, the birthplace of gaucho traditions. Visit with some of the local artisans and silversmiths before heading to a typical estancia where you'll dine on a hearty asado lunch – a traditional Argentine barbecue. While on the ranch, it's your choice! Go horseback riding through the countryside or take a scenic horse-drawn carriage ride. Meet authentic gauchos who will share stories about what life is like in the countryside. You'll get the chance to relax on the estancia grounds before heading back to Buenos Aires for a free evening. Tonight you may choose an optional home-hosted wine pairing dinner at a local chef's home.
Meals: Breakfast & Lunch
Accommodation: Brick Hotel Buenos Aires
Buenos Aires – Iguazu Falls, Brazil
Fly to Iguazu Falls – located at the crossroads of Brazil, Argentina and Paraguay – hailed as the most beautiful waterfalls in the world and one of the Seven Natural Wonders of the World. Board the Rainforest Ecological Train inside the national park on the Argentine side and walk to the platform overlooking powerful Devil's Throat. Discover unparalleled views of five waterfalls as they plummet into the Iguazu River. Cross to the Brazilian side and check into your resort. Cap off your day with a relaxing dinner.
Meals: Breakfast & Dinner
Accommodation: Mabu Thermas Grand Resort
Iguazu Falls
Soak up the breathtaking views of the waterfalls from the Brazilian side. Join your local guide as you discover how Brazil and Argentina have both fought to protect the beauty and raw power of the falls by making each side a national park. You will see first-hand why Eleanor Roosevelt, upon seeing Iguazu Falls, exclaimed "Poor Niagara." The afternoon is yours to relax and enjoy the many amenities at your resort or you may choose an optional jungle boat ride at the base of the falls.
Meals: Breakfast
Accommodation: Mabu Thermas Grand Resort
Iguazu Falls – Rio de Janeiro
Fly to Rio de Janeiro. Magnificent views, beautiful beaches, flamboyant Carnival costumes, great cuisine and friendly people make Rio the cultural capital of Brazil. Venture to the top of Sugarloaf Mountain for breathtaking views. Check into your beachfront hotel in the exclusive Leblon neighbourhood. Learn how to craft caipirinhas – Brazil's famous cocktail made with sugar cane liquor and lime.* Then, cap the night off at Rio Scenarium, a lavishly decorated restaurant and music venue in the historic Lapa district. Meet local Cariocas (the name for people from Rio de Janeiro) for a night of dinner, music and dancing.
Meals: Breakfast & Dinner
Accommodation: Sheraton Rio
Rio de Janeiro
Journey to Corcovado by train to see Christ the Redeemer, one of the largest Art Deco statues in the world. Take in the panoramic vistas from Tijuca Forest National Park and 360-degree views around the city. Then spend time with locals at one of the city's open-air markets. Break into small groups with market guides as you discover and taste over a dozen different types of exotic fruits from Brazil. Your afternoon is at leisure. Relax by the beach at your resort or take a shuttle to Copacabana. Or, perhaps take an optional jeep ride through the Tijuca forest followed by a visit to historic Santa Teresa.
Meals: Breakfast
Accommodation: Sheraton Rio
Rio de Janeiro
This morning, it's your choice! Step behind-the-scenes at Carnival and meet the artists who are designing the floats, costumes and dances during their year-round preparations for Rio's biggest event. Or, join a local guide for a tour of a favela; learn about the unique contrasts and paradoxes of Brazilian society as you stroll through the community and visit a local home; relish some time for coffee, cake and discussion with the humble residents. This evening we gather to enjoy a panoramic city tour that includes a visit to the Metropolitan Cathedral with architecture that was inspired by a Mayan pyramid. Stop by the Maracanã football stadium, which hosted the 2014 World Cup finals, before continuing on to the Carnival parade route, the Sambadrome. Tonight, join your fellow travellers for a farewell feast in a typical Brazilian churrascaria. Indulge in wine and meats slow-roasted to perfection.
Meals: Breakfast & Dinner
Accommodation: Sheraton Rio
Rio de Janeiro – Tour Ends
As your tour comes to a close, transfer to the airport for your flight home. For guests with evening flights, you may choose an optional visit to the famous Botanical Gardens along with a cruise of Guanabara Bay, or perhaps a historic walking tour of the waterfront district which underwent a fantastic transformation for the 2016 Olympics.
Meals: Breakfast
Accommodation: Sheraton Rio
---
Terms & Conditions
All rates are per person, based on double occupancy in Canadian dollars (unless otherwise stated) New bookings only. Space and price may be limited and subject to availability at the time of booking.  Errors or omissions may occur on the above information with no guarantee of being honoured. Terms and conditions apply. Tax is not included in the above base fare. Above tax amount includes $30 per adult Booking Management Fee.  Not included in the above rates: Xpresspost fee, recommended medical, cancellation or baggage insurance. Child rate is applicable when travelling with 2 paying adults sharing 1 hotel room, using the existing bedding. Price Match Policy: Travel Best Bets makes every effort to remain competitive by offering our 'Match or Beat Any Price' offer however due to certain restrictions  there will be some product we cannot match or beat. Please note the star ratings found on www.travelbestbets.com are determined by Travel Best Bets based on a number of factors and may not match the star rating found in the Tour Operator's brochure. Please view our star ratings by clicking here. Due to an increasing volume of disputed bookings, we will only accept payment for air only travel to India, the Philippines and the continent of Africa through the following means: book and pay cash in person or by direct deposit into our business account – once the transaction is verified and a copy of the receipt emailed or faxed to our office, we will confirm the booking. Please contact us for details on how to book using this method.Please note there maybe a tax increase when FREE connectors are added with Air Canada Vacations. Please contact

[email protected]

for photo credit information. BPCPA #3287